So last week I was in Las Vegas for a trade show. It is always fun to see my customers and co-workers who live in other states.  But if I'm being completely honest, there is an aspect of trade shows that give me the heebeegeebees.  As much as I hate to admit it, I'm not a huge fan of shaking hands.  I don't mind it so much, as long as I have my 55 gallon vat of hand sanitizer within arms length.  But when you see someone walking toward you, inappropriately scratch themselves, cough into their hand, pick something out of their teeth, make sure their cold sore is still attached, and then extend their paw for you to shake…ewwwwww …gross.  As a professional I, of course, take the germ infested appendage.  You wouldn't be able to tell from my calm, cool demeanor on the outside, but know on the inside I'm screaming like a ten year old girl, and diving head first into my large "Tub O' sanitizer."  Whenever I'm at a restaurant and see the signs in the restroom that proudly display "Employee's must wash hands before returning to work," I'm always tempted to write underneath it, "If an employee is unavailable please feel free to wash your own."
Anyways.  A lot happened when I was out of town.  In years past I would have had a laptop with me and could have ranted, this year I had my phone with me and didn't want to give my thumbs this much of a work out.
Last week the New York Times printed an editorial that defended Obama's "you can keep your insurance" line by saying "Mr. Obama clearly misspoke when he said that."  Isn't that cute of the New York Times?  He merely "misspoke."  Misspoke like 40 times.  This week the New York Times is calling it an "Incorrect promise."  (Eye roll)  Honestly, things like that make me wish I was born with more middle fingers.  I guess President Obama also misspoke when he said you would be able to keep your doctors, that premiums would be less, that families would save $2500/year, that only 5% are affected by the new health care law, and of course, you can easily enroll by phone in 25 minutes.  He probably also "misspoke" when he talked about transparency, no middle-class tax hikes, shovel ready jobs, 5 million green tech jobs, "you didn't build that," the private sector doing fine, and about Benghazi being caused by a video.  Then of course there is the Secretary of Health and Human Services Kathleen Sebelius?  Did she "misspeak" when she assured us the website would be ready, that it shut down due to heavy traffic, that it is secure, that she didn't know the enrollment numbers, and my personal favorite, that enrolling herself in Obamacare is illegal?  Naaaaa…I doubt it.  It's probably just "Bad Apple insurance companies" who are screwing up the country.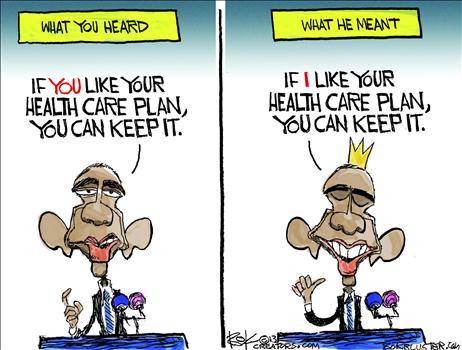 "Misspoke".  It would be kinda cute if it wasn't destroying our nation.  I remember when it was called LYING.
In the recent Parade Magazine former president Jimmy Carter said, "His major accomplishment was Obamacare, and the implementation of it now is questionable at best." Just last month he said: "Compared to when I left the White House, the difference is twice as great as it was between the richest people and the poorest people. And the middle class has now become more like poor people than they were 30 years ago."   Jimmy said that.  Carter, who up to this point was the most disastrous president in the last half century. Under Carter's economy the labor participation rate hit a rock bottom 63.4%. But even this is better than the current rate of 63.2%. The lowest it's been in 35 years.  Under President Obama, a record 90 million Americans now eligible to work are jobless.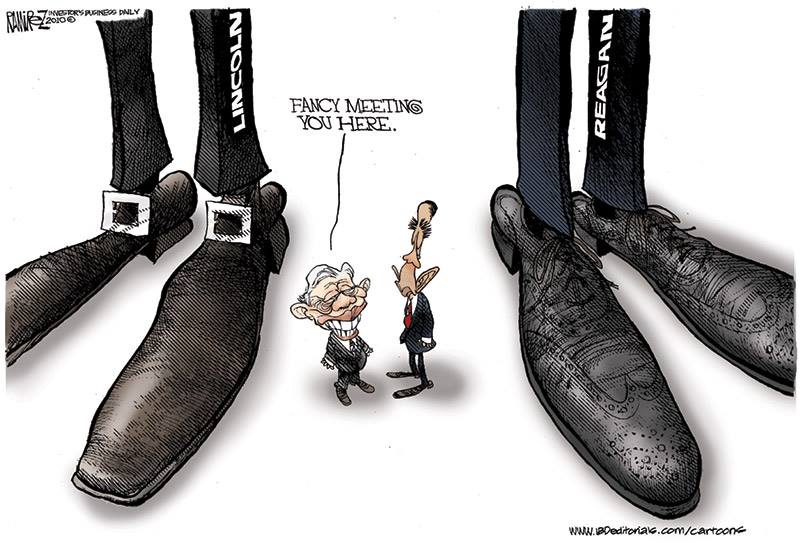 Now even Bill Clinton is saying the Health Care Law Should Be Changed To Allow People To Keep Their Plans.  With Clinton now speaking out against it, watch how fast other Democrats distance themselves from it.  Hey, where was Clinton in 2010 when Senate Democrats unanimously rejected a Republican resolution that would have grandfathered people from losing the insurance they like?  Currently the talking point is "only 5%" will be losing their insurance (5% of the population is over 16 million people), and that doesn't include the mind-blowing 93 million the HHS estimates will lose their insurance after the employer mandate kicks in.
Hmmmmm…It seem like it was just last month that people who wanted to delay or change Obamacare were called "legislative arsonists" and "terrorists" who were "holding the country hostage." This month… they're called Democrats.
LIFEZILLA:  A funny thing happened on the way to my potential…..