I vividly remember when I was a wee little lad seeing a car phone for the first time "in real life".  It had a rotary dial and handset that was identical to the ones we had at home.  I remember trying to figure out how the phone could possibly work not being tethered to a wall.
It looked similar to this: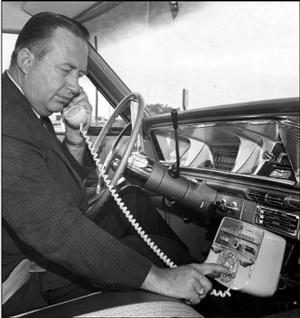 Fast forward to the eighties:
I remember a guy I knew in high school "borrowing" his dad's cell phone to take to a dance (he probably just took it).  I remember him trying to dance in his "Miami Vice" inspired outfit, with a phone in his back pocket, roughly the size, shape and weight of a brick.  Someone asked if they could make a phone call, he said his dad would kill him, the phone company charged $4.00 a minute, his dad let him borrow it for emergencies only (a girl at the dance was able to bat her eyes at him and use the cell phone).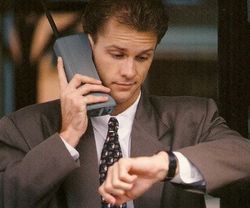 Fast forward to the early nineties:
The company I work for bought me a "National" pager.  One that would work in any state.  I remember thinking "If I'm so important that you need to get in touch with me wherever I am in the country at any time, I need to make waaaaay more money."
Fast forward to today: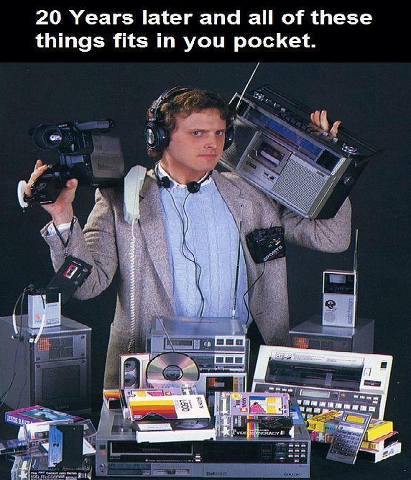 I have an iPhone 4.  I bought it brand new about a year and a half ago for $100.  I sincerely doubt I could build the phone I have for $100.00.  A girl I work with just got the same, brand new, phone for free.
Growing up it was understood that only the rich and the privileged had cell phones.  No one whined about it. It just was.  But just like trickle down economics, trickle down technology works too.  Now almost everyone has a cell phone.  The rich and the poor.
Ask yourself, what changed?  How did we, in a short period of time, go from a phone that was the size, shape and weight of a brick, could only be used to make calls, and cost $4.00 a minute to use, to a small, thin, light devise that does EVERYTHING?
The answer is simple.  Capitalism and the free market system.
If I was little bit smarter, or wasn't so lazy, I would do a Google search and come up with similar examples for advances in the medical field.  Examples that show where the greatest minds of the time, the best and brightest, came up with a widget, a pill, or a break through that cost millions of dollars and years of research to bring to market and now is taught to first year medical students.  Advances that can be traced to capitalism and the free market.  But I won't.
Obamacare is retarded.
"GASP!!!! But Danny" you whine, "How can you say that?"  It was easy.  I figure we are all grown-ups there.  Obamacare is retarded.  Now before you get your panties in a wad, the word retard is defined as "delay or hold back in terms of progress, development, or accomplishment."  That describes Obamacare perfectly, it's retarded.  The days of America leading the world in medical advancements are about to come to a screeching halt.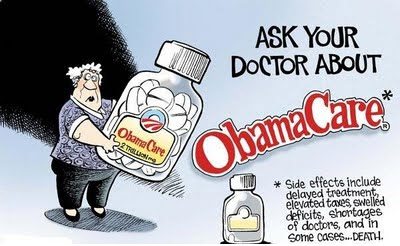 Last year the Wall Street Journal explained, "Physician income declines will be accompanied by regulations that will make practicing medicine more costly, creating a double whammy of lower revenue and higher practice costs, especially for primary-care doctors who generally operate busy practices and work on thinner margins."  The article went on to explain, "The 60% of doctors who are self-employed will be hardest hit. That includes specialists, such as dermatologists and surgeons."  In other words why would the best and brightest go into a field where they know they will be regulated to death while seeing their wages decrease?  Who needs that?  I don't think those in Washington could come up with a more INEFFECTIVE plan for producing more doctors if they tried.  Paying them less and taxing them more?  Oh yeah.  Sign me up (sarcasm).  Doctor shortages are going to be an issue in the future.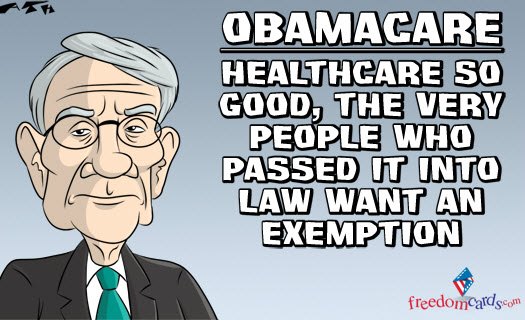 Forbes and the Washington Times both explain how the tax on medical devices is hurting that industry.  Again, would the best and brightest go there?  NO.
Obamacare is retarded.
Many Republicans are trying to de-fund Obamacare.  Do I think it will happen?  Sadly, I don't see it happening.  But I applauded the efforts of the Senators who are doing it.  It's really the first time the "Affordable Care Act" has been debated.  The "Affordable Care Act" pffffffffffffffffffffft  (eye roll)  there's the biggest misnomer in history.  It isn't "Affordable" it not only won't provide any additional "Care" it's going to be greatly reduced, so really, it's just an "Act".
LIFEZILLA: I have the attention span of I'm hungry.