Something Wicked This Way Comes
You would think I would be over it now, but I'm still a little bitter about it.  I just still can't believe how stupid the American Electorate is.  Now everyone is screaming about how the Republicans need to 'reach out' to this group or that group.  They need to 'evolve."  And you know what?  That may be true.  In fact, let's say (for sake of argument) it's 100% true.  Still.  We had one chance to steer the country away from a fiscal Greece-style cliff and what did we do?  We hit the gas.
Why?  Because of "birth control, binders and Big Bird," oh my!!!
 As you can imagine, many of my more liberal friends have been teasing me this last week.  I can take it, bring it on.  What is…well…I don't want to say its "sad," because it is just part of the gig.  What's "kind of sad" is that an uninformed vote means just as much as an informed one.  Don't get me wrong; I get that people have different points of view. If President Obama is your guy and you can list off the reasons why, I have nothing but respect for that.  But, if your only two reasons are (and I honestly heard these) "He is just trying so hard, I just feel we need to give him a second chance," or "Bush was just so bad," you should just go back to watching "Dancing with the Stars" and let the grown-ups talk. (FYI, I really enjoy watching DWTS.)
As I look back at it, what REALLY gets me is things like this: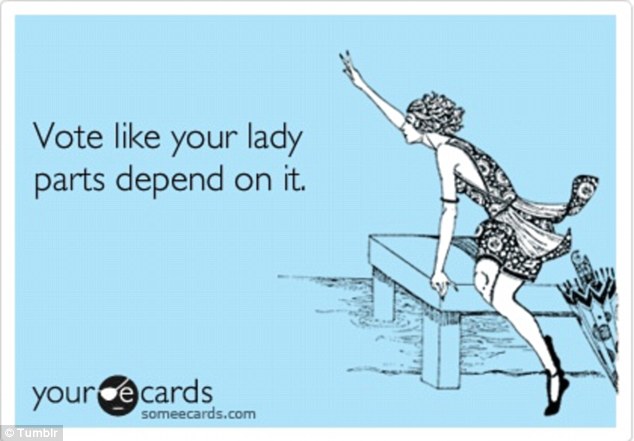 This is honestly one of Obama's super-charming campaign slogans that (apparently) many single women took to heart.  But let me let you in on a little secret: nothing about this election had anything to do with your "lady parts".
Now don't get me wrong, I'm a HUGE fan of "lady parts."  HUGE FAN.  I'm a huge fan of women.  I look at my wife (who, four kids and twenty-one years later, is still SMOKIN' HOT) and all she does: cleans, cooks, full time job, volunteer work, she works with the Young Women at our church–she amazes me.  I firmly believe all women should be put on a pedestal, I really do, for all those reasons.  Plus, when you put a woman up on a pedestal, it is easier to look up her skirt (wicked grin).
To me it is ironic that women, who supposedly are strong, voted to be taken care of by government.
"But Danny," you whine, "what about contraception?"  Either way the election went, nothing would have changed in the realm of contraception.  Nothing, zero, zip, noda, regardless of who won.
"But Danny," you continue to whine, "what about abortion?"  It amazes me that abortion rears its ugly head every election.  It is one of those divisive issues that doesn't mean a thing.  Regardless of your personal thoughts on abortion, for it or against it, the fact Roe v. Wade was brought about judiciously, took that debate entirely out of the legislative arena. In other words, you cute little bugger you, no president or Congress could pass any laws to undermine it as long as that precedent stands.
Yes, it's true: Romney could have appointed Supreme Court justices that might overturn that precedent (though I doubt it).  But even if he did, NOTHING would have changed. Congress has codified the principles of Roe v. Wade into federal law, so the only way to completely overturn it would be, the Republicans would have to control the White House, Congress, and 60 votes in the Senate (something that has never happened in the history of the republic), and that is assuming all Republicans are pro-life.
Now I'm well aware that I'm being completely hypocritical with this next statement.  I get it.  I just can't believe anyone would base their vote on ONE issue.
The biggest threat to anyone's "lady parts" is the fiscal solvency of your nation.  That threat is actually real.  The made-up bull crap about abortion and contraception is just that: Crap.  How could anyone vote for anything based on phantom stories when we have a very real and compelling prospect of an irrecoverable economic disaster?  Un-be-freaking-lievable.
In case you can't tell, I'm still amazed, and a little peeved at the election results.
LIFEZILLA:  I don't know about you, but I could really go for a punch in your face right now.