AVENGE ME!!!!
I was in Las Vegas last week for a trade show.  It was a big week, politically, and I have soooooo much I wanna write about.
On Saturday the 3rd, I saw President Obama tell a group of followers, after they booed at Mitt Romney's name, "Don't boo.  Vote! Vote! Voting's the best revenge!"
Revenge?  Really?  Is that what the Presidency of the United States is all about?  Revenge?
The Mitt Romney campaign countered pretty quickly with this ad:
I'm a Romney fan.  I think he is the most uniquely qualified man for turning the economy around and leading this country than any one else.  But I'm not a robot.  I'll watch him closely, and if I disagree with him I'll say it.  I believe many Obama supporters are mindless robots.  Obama could set an orphan on fire and he would be praised for "heating the homeless."
When I first heard Obama's revenge quote I rolled my eyes and gave him a pass.  It was one, off the cuff, comment.  No big deal.  UNTIL, I heard this quote from Valerie Jarrett:
"After we win this election, it's our turn. Payback time. Everyone not with us is against us and they better be ready because we don't forget. The ones who helped us will be rewarded, the ones who opposed us will get what they deserve. There is going to be hell to pay. Congress won't be a problem for us this time. No election to worry about after this is over and we have two judges ready to go."
You got that?  Seriously, go read it again.  If you don't know, Valerie Jarrett is a Senior Advisor to President Obama, and has been referred to as "Obama's Brain."  It sounds as if they are planning on carpet bombing the United States of America for the next four years if they win.  Revenge?  It sounds more like a Tyrant and a Dictator.  Is that really what we want from the leader of a free Republic?
Last night I was watching the President on Fox news.  I paused my TV and took this picture.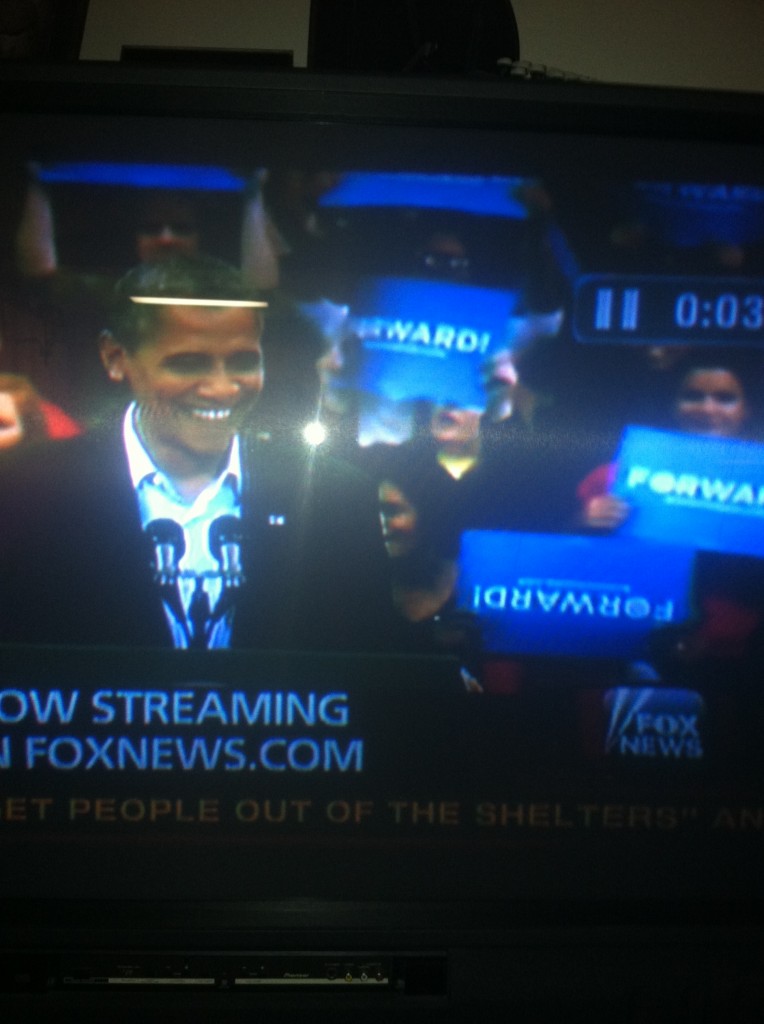 See the guy with the upside down sign?  Forward?  More like Barackwards!
Please, BE SURE TO VOTE.  IT WILL MAKE A DIFFERENCE.
We changed our clocks Sunday, I'm hoping we change our President this Tuesday.
LIFEZILLA:  HEY!!!  Help spread the word about Lifezilla.  Unless you think that word is "incompetent."  Then I would appreciate it if you kept your mouth shut.