Here, Let Me Give You a "Big Bird"
 Two things.  First, a few weeks ago my beloved told me that I can sometimes sound "mean" in my articles.  In retrospect that might be true. I feel like this 90% of the time I write: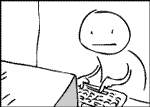 So I can see how it would come across that way.
Number two.  I had a friend write me and say that I come across "narcissistic" in my writing.  Pfffffff…Narcisa-What!?  I have two things to say to that: One,  I don't have a narcissistic bone in my smokin' hot body; and two, even if I were, do you know what is awesome about being a narcissist?  Me.
So…on to today's article.
At the risk of repeating myself, I wasn't born with enough middle fingers to fully express how I feel about this.  It is maddening to me.
It seemed like it was just a few minutes after Mitt Romney got finished handing the President his…butt the other night at the first Presidential debate, that I received this picture in an email: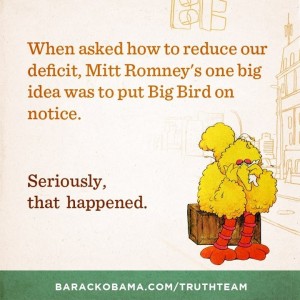 I chuckled.  It's funny. The fact that the Obama campaign has turned this into the focal point of this election is NOT.  Honestly.  It is now in the realm of the ridiculous.
For those of you that may have missed it, Mitt Romney pointed out the government shouldn't be borrowing from China to pay for things such as public broadcasting.  He even said he liked Big Bird.  And who couldn't?  I love Big Bird.  I watched Sesame Street growing up.  (I'm still kinda angry no one told me how to get to Sesame Street.  Stupid song).  But here is a little secret.
SESAME STREET DOESN'T NEED THE TAX PAYERS MONEY!!!!
On CNN last Thursday (October 4th), Sesame Workshop Executive Vice President Sherri Westin said it was "misleading" to say that ending public funding for Sesame Street would hurt the program.  She said, "Quite frankly, you can debate whether or not there should be funding for public broadcasting. But when they always try to tout out Big Bird, and they say we're going to kill Big Bird—that is actually misleading, because Sesame Street will be here…Big Bird lives on."
And it's true.  In 2010 Sesame Workshop former CEO Gary Knell received $988,456 in total compensation.  That's almost a million bucks.  I don't berate him a penny of it.  I wouldn't care if he made $10 million.  I just don't think the program needs a dime of the tax payer's money.
Sesame Workshop's 2011 financial statement showed the program made $46.9 million in licensing from June 2010-June 2011, and made $41.9 million in distribution fees and royalties.  Overall, Sesame Workshop showed more than $136 million in total operating revenues. At the end of June 2011, its net assets totaled $227 million.   Financial reports from 2003 – 2006, show 'Sesame Street' made more than $211 million from toy and consumer product sales.  From 2008 – 2011 they made $244.4 million in licensing alone.  In other words, they aren't hurting.
So why is it the Obama Campaign released this commercial even though Sesame Street has asked it to be taken down?
I'll tell you why.  No, I think the President's own words will be more effective.  He said, "If you don't have a record to run on, then you paint your opponent as someone people should run from. You make a big election about small things."
It looks like the President is following his own advice.  I guess if I didn't have an idea on how to fix the economy, energy, Libya, out of control gas prices, or unemployment, I would be focusing on a big yellow talking bird as well.
According to Forbes we, the tax payers, spend $300 million on public broadcasting, which in the grand scheme of things is not a lot.  A fifty cent coupon in the grand scheme of my household budget isn't a lot either.  But if I use a hundred of them, it's fifty bucks.
Put a fork in it.  This bird is done.
LIFEZILLA:  Proudly read in many FINE, FINE establishments…and where you are.