The gift that keeps on….er….taking (?)
 I have to warn you from here, this is going to be juvenile.   I took this screen shot so you could see it.  It got my creative juices flowing, which can almost NEVER be good.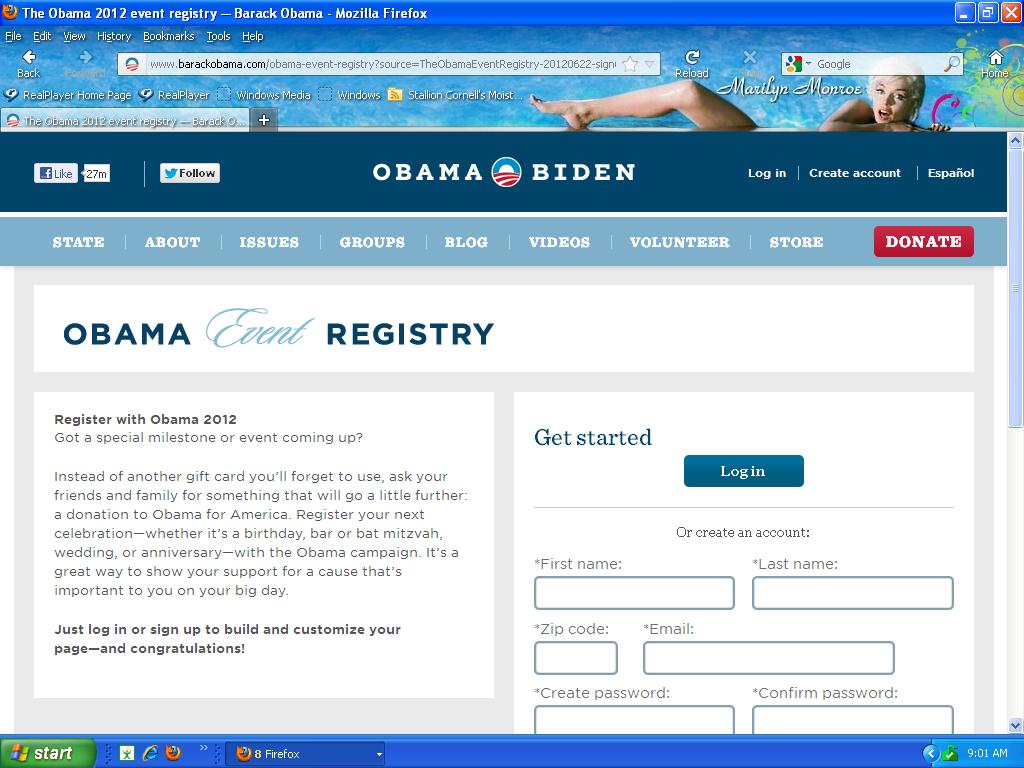 "Register with Obama 2012
 Got a special milestone or event coming up?
 Instead of another gift card you'll forget to use, ask your friends and family for something that will go a little further: a donation to Obama for America. Register your next celebration—whether it's a birthday, bar or bat mitzvah, wedding, or anniversary—with the Obama campaign. It's a great way to show your support for a cause that's important to you on your big day.
Oh yeah…here we go!!!  That will really stimulate the economy.  So I got to thinking, what are some other ideas the Obama Campaign hasn't tapped into yet?  Here are some suggestions, feel free to add your own.
 In lieu of flowers for the death of your loved one, reelect Obama!
 Do you really need all those extra organs? For each kidney you give, the president could have an extra 30 second ad in Ohio.
 Does your daughter still have her virginity? Let Obama For America find a buyer on our new auction site oBay!
 Stop paying for groceries! Get food stamps & send your grocery money to Obama!
 $50 and you can be a honorary czar for the day.
 Tell your kids that if they're good all year Santa will donate their gifts to Obama.
 Are you expecting? Don't punish yourself with a baby! Abort and give the money you would have spend raising a child to Obama.
 Dying?  Remember Obama in your will.
 HEY!!!!  We could sell California to Mexico. We'll still have 56 states to go.
 For each $1000.00 donation you will receive a permit to drink a 32 oz. Big Gulp in the middle of Times Square.
 For Sale: Official "It's Bush's Fault" certificate with Obama's signature.
 Instead of that expensive kidney dialysis, consider making a donation to Obama's reelection campaign.  I mean really?  How selfish are you.
 Pin the Tail on the Pelosi.
 "And then children, you put your tooth under your pillow and the Tooth Fairy comes in while you sleep and donates money to Obama."
 A bikini car wash – featuring: Hillary Clinton, Janet Napolitano, Michelle Obama, and Ruth Bader Ginsburg
COME ON!!!!  You can't say I didn't warn you.  I told you it was juvenile.  Look on the bright side, at least your not paying to read this crap.
Wanna share your suggestions?
LIFEZILLA:  I don't "suffer" from insanity.  I enjoy every single second of it.