My mom and aunt sent me an email a few days ago.  It was a "Report card" of the Obama administration.  "Are you better off today then two years ago" (it is obviously a year old).  Someone, before they forwarded it on, took it upon themselves to alter some of the numbers.  Some of the numbers were slightly off, some of them were way off, so I found the original article posted on The American Thinker.
Many of  the numbers now are worse then they were last year.  I'm going to try to find a more updated list (I'm sure someone has compiled one).  .
While looking at these numbers ask yourself "I'm I better off then I was a year ago?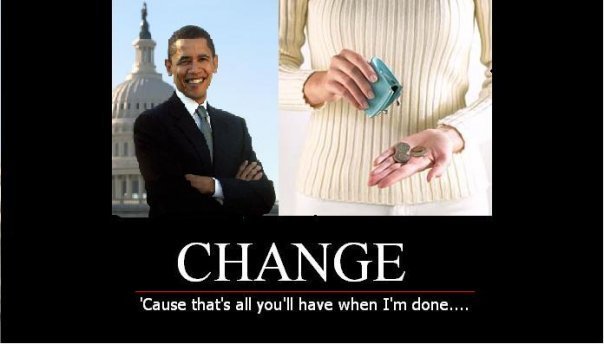 Here is the original article in its entirety.
Two years ago today, Barack Obama was inaugurated as president of the United States.  Are you better off today than you were two years ago?
Numbers don't lie, and here are the data on the impact he has had on the lives of Americans:
| | | | | |
| --- | --- | --- | --- | --- |
| | | | | |
|   |   |   |   |   |
| Avg. retail price/gallon gas in U.S. (regular conventional) | | | | |
| |   |   |   |   |
|      Crude oil, European Brent (barrel) | | | | |
|      Crude oil, West TX Inter. (barrel) | | | | |
|      Natural gas, Henry Hub, $ per MMbtu | | | | |
|      Gold: London (per troy oz.) | | | | |
|      Corn, No.2 yellow, Central IL | | | | |
|      Soybeans, No. 1 yellow, IL | | | | |
|      Sugar, cane, raw, world, lb. fob | | | | |
| Consumer Price Index (for all urban consumers) | | | | |
| Producer Price Index:  finished goods | | | | |
| Producer Price Index:  all commodities | | | | |
| Unemployment rate, non-farm, overall | | | | |
| Unemployment rate, blacks | | | | |
| | | | | |
| Number of fed. employees, ex. uniformed military (curr = 12/10 prelim) | | | | |
| Real median household income (2008 vs 2009) | | | | |
| Number of food stamp recipients (curr = 10/10) | | | | |
| Number of unemployment benefit recipients (curr = 12/10) | | | | |
| Number of long-term unemployed, in millions | | | | |
| Poverty rate, individuals (2008 vs 2009) | | | | |
| People in poverty in U.S., in millions (2008 vs 2009) | | | | |
| House price index (current = Q3 2010) | | | | |
| S&P/Case-Shiller Home Price Index: 20 city composite (curr = 10/10) | | | | |
| Number of properties subject of foreclosure filings, in millions | | | | |
| DJIA (12,403 on 6/3/08, date BHO clinched Dem. nomination) | | | | |
| | | | | |
| S&P 500 (1,378 on 6/3/08) | | | | |
| | | | | |
| U.S. rank in Economic Freedom World Rankings | | | | |
| Consumer Confidence Index (curr = 12/10) | | | | |
| Present Situation Index (curr = 12/10) | | | | |
| Failed banks (curr = 2010 + 2011 to date) | | | | |
| U.S. dollar versus Japanese yen exchange rate | | | | |
| U.S. money supply, M1, in billions (curr = 12/10 preliminary) | | | | |
| U.S. money supply, M2, in billions (curr = 12/10 preliminary) | | | | |
| National debt, in trillions | | | | |
|   |   |   |   |   |
| |   |   |   |   |
| 1 – U.S. Energy Information Admin. |   |   |   |   |
| |   |   |   |   |
| 3 – Bureau of Labor Statistics |   |   |   |   |
| |   |   |   |   |
| |   |   |   |   |
| |   |   |   |   |
| |   |   |   |   |
| 8 – Standard & Poor's/Case-Shiller |   |   |   |   |
| |   |   |   |   |
| 10 – Heritage Foundation and WSJ |   |   |   |   |
| 11 – The Conference Board |   |   |   |   |
| |   |   |   |   |
| |   |   |   |   |
| |   |   |   |   |